Who We Are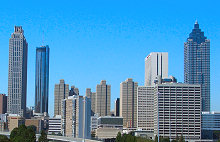 Chatham Capital is a mezzanine finance firm that concentrates on small to middle market companies with sustainable cash flow from operations. Headquartered in Atlanta, Georgia, with additional offices in Dallas, TX and Providence, RI, Chatham principally invests in health care, manufacturing, and service companies with revenues and EBITDA of at least $10 million and $2 million, respectively. The Fund does not make early-stage, venture capital or real estate investments.
Mezzanine Financing
Mezzanine capital is the layer of a company's capital structure that bridges the gap between senior debt and equity. When structured properly, mezzanine capital expands a company's borrowing capacity with less dilution to owners than issuing additional equity.
Chatham Capital ~When Experience Matters
The firm is managed by principals with over 100 years of aggregate experience in leveraged lending, private equity investing, banking, investment banking, operational management, accounting and consulting. The principals directly analyze and respond to all proposals and are committed to providing prompt feedback on each inquiry.


400 Galleria Parkway, Suite 1950, Atlanta, GA 30339 | Phone: 770.618.2100
©2012 Chatham Capital Partners, Inc. All Rights Reserved.